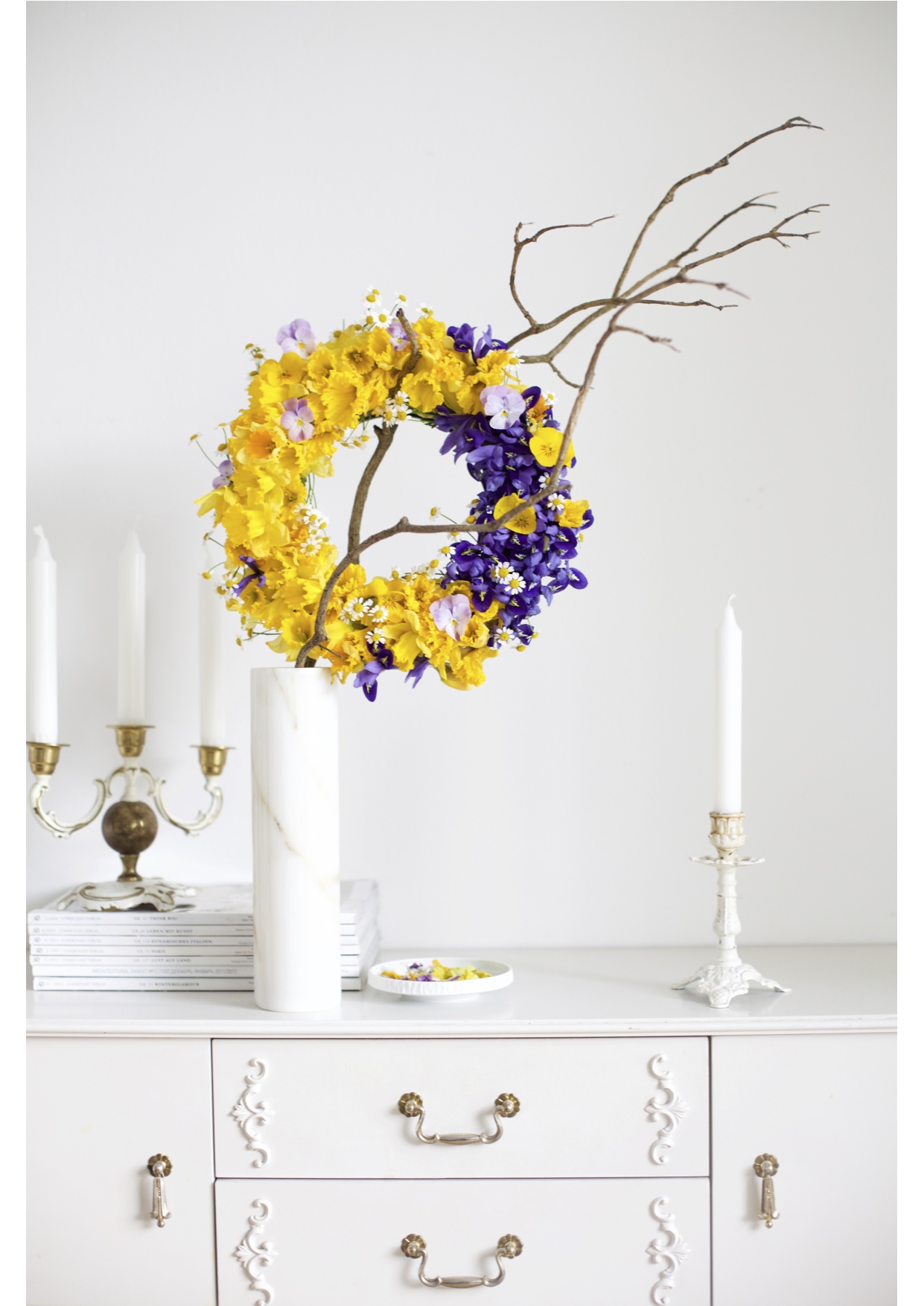 The last #feingedachtinterview in 2015. And one I´m really thrilled about. Anastasia Benko is a stylist, shop owner and blogger and I love her wonderful, unique photos and styling. In the interview, she reveals that detours sometimes make dreams come true, what success means to her and that trends are not everything.
Behind every good business idea is a well thought concept. Sometimes, however, it is only a coincidence that leads to success. How about you, Anastasia? How and when did your blog and online store "stilzitat" emerge? And was the decision to start your own business an easy one?
Anastasia Benko: "My well thought concept originally was to study art history to work in this section. Said and done. Only that it never came to the second part of that well thought concept: Jobs in museums are notoriously few and far between … very … so I had to find a new, well thought concept for me.
The collecting passion of my family has been transmitted to me early and often my friends have asked about the origin of my fashion or home accessoires. With this background I came up with the idea to set up my online shop "Stilzitat" in 2011 where I offer specially curated vintage objects and could "quote" different styles from baroque to the 1980s' style. Stilzitat can be translated to 'quote of style´. This allowed me to make my very own exhibitions.
I decorate very often and and felt the need to transform the vintage settings from my home to my online shop. So product photography has led me back to the beginning of my art and photography.
As an additional project, I founded my blog "Stilzitat". But after some time it felt odd to put my creative work under the blog name. Although this name went well with the online shop, gradually I added art installations and work from the lifestyle sector to the numerous pictures of products, interior and flowers. So this year I created an online portfolio and my blog moved to anastasiabenko.com to show the full range of my work. The change of the blogs was a lengthy process, similar to the decision to start my own business, but I didnt regret that I´ve followed my heart.
In retrospect I have to say that I´ve put the cart before the horse. Although the shop existed earlier than the blog, only my work as a stylist has made people aware that they can buy beautiful unique items at my shop. These are gladly used by other bloggers as props. I can consider myself lucky to live and work in a cabinet of art und miracles. The excuse that I need this for a styling always works, even if it is the 3528-umpteenth vase that expanded my collection … But in a healthy cycle most props find their way back into my vintage shop."
Your blog got an award for "Best Individual Style" a few weeks ago by the publishing house Callwey and you´re also featured in the book "Wohnideen aus dem wahren Leben". Would you say that you "have made it"? How do you define success?
Anastasia Benko: "I would really tell a fib if I´d say that I would never have dreamed to see my work in a book someday … Sometime … My surprise was even greater that I got the chance to participate in this book. I felt so honored to appear in such a great and successful book project, especially alongside such talented people like Mette of Monsterscircus, Elodie of Madame Love und Jeska of Lobster and Swan. Although I was nominated I would have never expected to win an award! And when my name was announced I was completely taken aback and words failed me.
To say that I "made it" is against my nature as it would be like stepping on a brake! Of course the publication and the award is a real accolade but it would mean a standstill for me if I would rest on my hard-earned success. On the contrary: After the book project and with the award a lot of very interesting offers came up and I cannot wait to start the new year, because I have a lot of other beautiful goals.
I thought a lot about this last question, but I don´t have a firm definition about success. What I know is that I´ve reached my goals because of my perseverance and hard work. It sounds like a cliché, but even though I work a lot it doesnt feel like work because I consider myself very lucky to be able to live a creative life."
You create your own recognizable style – most flowery and very delicate, almost ethereal. How did you develop that style and do you have a tip how to develop your own photographic style?
Anastasia Benko: "Thank you, dear Sonja! I just follow my hands and my heart´ would be too plain and simple as an explanation for the creative process, right?
Well, there 's also a lot of practice behind it. My first attempts to take good photos of interior still lifes failed miserably. Deep inside I knew how my photos should look like but I wasn't satisfied with the results for a long time. So I've practised every day.
First I developed my technical skills. My experience has taught me that I would only be able to achieve the results I want when I know exactly what I have to do with my camera. Even if it was hard for me to learn the technical details. At the beginning I worked with artificial light, but now I almost entirely go without it. I work with a very bright lens and try to work with natural light.
I already told you that I love to decorate. Almost every day I create a small or big still life in my apartment. So I had patient objects that I could photograph. To me, there is no secret: I simply follow my heart: I use everything for my still lifes that makes me happy and brings back intense memories: the postcard of a friend next to a souvenir from the holidays … With me the things never remain in the same group for long as I always add new favourites. Without planning some things show their true beauty if you decorate them out of their usual context.
But not just the everyday exercise with the camera and the props helped me. I never followed trends. Sometimes it was even reversed: I bucked the trend: Brad Pitt and jeans were ignored by me. Sounds very silly, but I've always had an eye on things that were not perceived by others. I´d rather collected antiques and vintage and and invested my first money in interior accessories. I love to put old objects in a contemporary contex, and perhaps it's the unusual objects and the love for objects with lots of patina that make my style so unique."
Christmas is around the corner and if wishes can come true, it´s now or never. Would you tell us your christmas wishes?
Anastasia Benko: "If I´d tell you, they will not come true, right? That's why I keep it to myself… But I can tell you a secret: One of my biggest wishes will come true next year."
Thank you so much, dear Anastasia!
Links: Blog/Site, Shop, Instagram, Pinterest
Photos by Anastasia Benko
Merken